85 Karats Original Clay | Lock Stock & Barrel
£12.50
SKU: N/A
The reason we're here. Long lasting, flexible hold and a natural shine that's got it all. Water-based formula.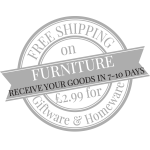 Add to Wishlist

Product Description
85 Karats Original Clay | Lock Stock & Barrel
An unrivalled collection of award-winning styling blends designed to give endless styling options. Paraben, sulfate and phthalate free.
100g
You have not viewed any product yet!