Fig & Grape | Kew Garden Soap
£6.50
SKU: N/A
Fig and Grape has a fruity fragrance with a soft blend of peach and orange. The middle notes are made up of blonde woods and coconut. The oriental base has a blend of musk, sandalwood and dried amber mixed with Cedarwood to complete the scent.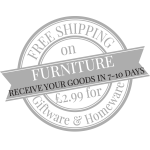 Add to Wishlist

Product Description
Fig & Grape | Kew Garden Soap
An exclusive range of luxurious pure vegetable soaps inspired by fragrances and beauty of the plants at The Royal Botanical Garden, Kew in London. The Fig & Grape | Kew Garden Soap will last the test of time and its everlasting fragrance will diffuse until the end of the bar. The soap is enriched with shea butter to nourish and moisturise all skin types. The wraps are printed with images selected from Kew's historic archives to give the product its unique design. The soap comes in 14 fragrances to choose from, in fruity, floral and fine scents. The soap bars match the 75mls Kew Gardens hand creams and would be a charming gift set. These bars are wonderful soaps for either your basins, baths or showers and will fill the room with their everlasting fragrance.
Made in England
240 Grams
You have not viewed any product yet!