£34.99 – £54.99
SKU: N/A
Pebbles have been mounted and arranged romantically to sit on a beautiful sketched print of a wooden bench and a tree that has the inscription 'Just Us' hand drawn onto it.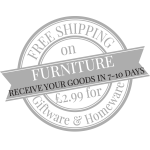 Add to Wishlist

Product Description
JUST US | PEBBLE PICTURE
JUST US | PEBBLE PICTURE is a beautiful framed picture, handmade using natural pebbles and slate.
Precision placed natural pebbles and slate have been cleverly combined to create beautiful symbolic sentiment throughout this stunning range. Each picture has a co-ordinating plaque beneath the artwork which will match each individual design.
A beautifully co-ordinating Dawn Grey Mount board has been used on the art-board and finished with an Antique White mount. The soft grey colour of the mount compliments the natural colour of the slate and pebbles perfectly.
The 'Pebble People' are framed in a deep edged box frame. The frames are produced and manufactured using British components where possible and are made from Polcore which is a design-led extruded moulding made from recycled polystyrene. Polcore mouldings have a constant, clean finish and are impossible to distinguish from natural wood grain. This design has been beautifully mounted on a Dawn Grey textured mount-board with and acid free backing board.
Width: 26cm-40cm
Height: 26cm-40cm
Additional information
| | |
| --- | --- |
| Dimensions | N/A |
| Dimensions | 26x26cm, 40x40cm |
You have not viewed any product yet!