Gresford White 2 Door 2 Drawer Wardrobe
£648.00
SKU: N/A
The Gresford White 2 Door 2 Drawer Wardrobe is the perfect piece for a modern home, there is a vast array of space hidden behind the two chic white panel doors meaning there is more than enough room to fill it with clothes you haven't worn in months. There is also two chunky drawers which offer you a place to put your larger pieces of clothing, meaning you can hang clothes to your heart's content. You can always check out our blog for hints and tips on organising your wardrobe.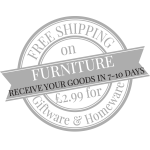 Add to Wishlist

Product Description
Gresford White 2 Door 2 Drawer Wardrobe
The wonderful Gresford White 2 Door 2 Drawer Wardrobe forms part of the chic Gresford White Range, the calming white finish adds character & style to each piece, bringing light life to whichever room it is placed in. The use of high quality oak gives everything in this range a timeless feel, contrasting well with the subtle cool white tones. Any room would be lucky to offer this beautiful range a forever home.
Width: 100cm
Height: 200cm
Depth: 57cm
Weight: 58kg
Additional information
| | |
| --- | --- |
| Weight | 58 kg |
| Dimensions | 100 × 200 cm |
You have not viewed any product yet!